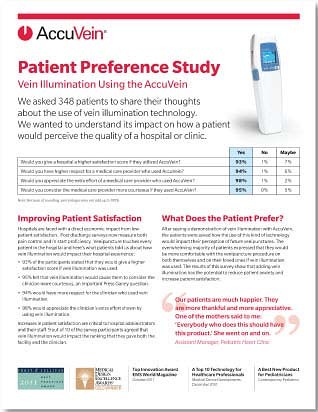 We asked a large group of patients to share their thoughts about the use of vein illumination technology. We wanted to understand its impact on how a patient would perceive the quality of a hospital or clinic.
Patient satisfaction is a key measurement of success. Learn what patients said about Improving Patient Satisfaction
After seeing a demonstration of vein illumination patients were asked how this new technology would impact their choices of healthcare provider. Read What Does the Patient Prefer?
It's all well and good for a patient to express a preference, but will it affect their behavior? Read about vein illumination Impact On Patient Choice
Vein illumination is emerging as part of the standard of care in many facilities. Learn about the impact on the Standard Of Care
We all see patients that talk about previous trouble with venipuncture. Learn about patients who have had Previous Trouble With Venipuncture
And finally, does the use of vein illumination have an Impact On Blood Donation.
This patient satisfaction message is very timely given that in October 2012, as a result of the passage of the Affordable Care Act, Medicare began taking patient satisfaction into account when reimbursing hospitals.
Request a copy of the Patient Satisfaction Study from your AccuVein representative.